It's the second day of our Grand Circle trip, and we planned to see sunrise at Mesa Arch.  Since my mom got a little injury in Arches National Park the previous day, she didn't join us for the sunrise.  We also thought it's better for her to rest more so that she would have energy later.  However, it's really a pity that she missed the best sunrise in the whole trip!
The driving from Moab to Mesa Arch, which is in Canyonlands National Park, was about 45min.  In order to get a good spot for photography, we got up and hit the road very early (4:30am, 2h before the sunrise).  I kinda remember that I was in the driver's seat, so that D (my husband) could rest.  After all, I am the one who is crazy about sunrise and sunset!  It was still dark when we arrived at the trailhead parking area.  But don't worry – we had headlights!  So prepared!  The trail was said to be a 0.7 mile loop, so it should be only ~600m to the Mesa Arch.  However, it took us a while to figure out which way to go, because the trail was not that obvious (remember? It's dark).
We were among the earliest at Mesa Arch!  I tested a few spots with my camera, and finally settled down.  More and more people came.  My spot was probably good, because several tripods were set up besides me.  We were all quietly waiting for the moment.  On the other hand, D was walking around – climbing up and down.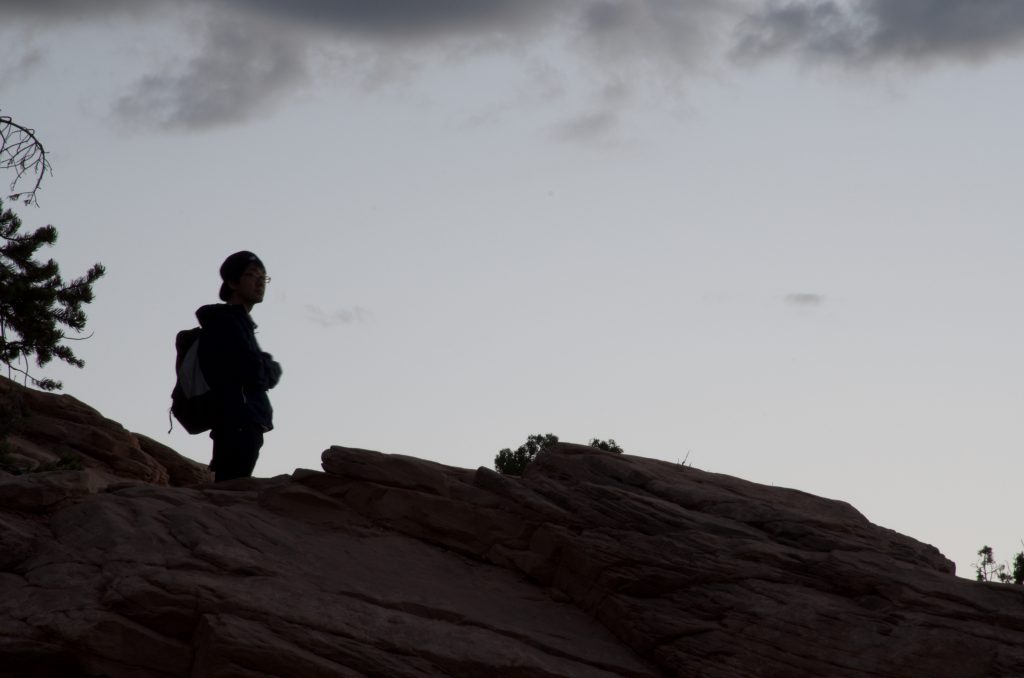 The east started to show some red.  After a while, the first sunshine came out and lighted up the quiet canyonlands.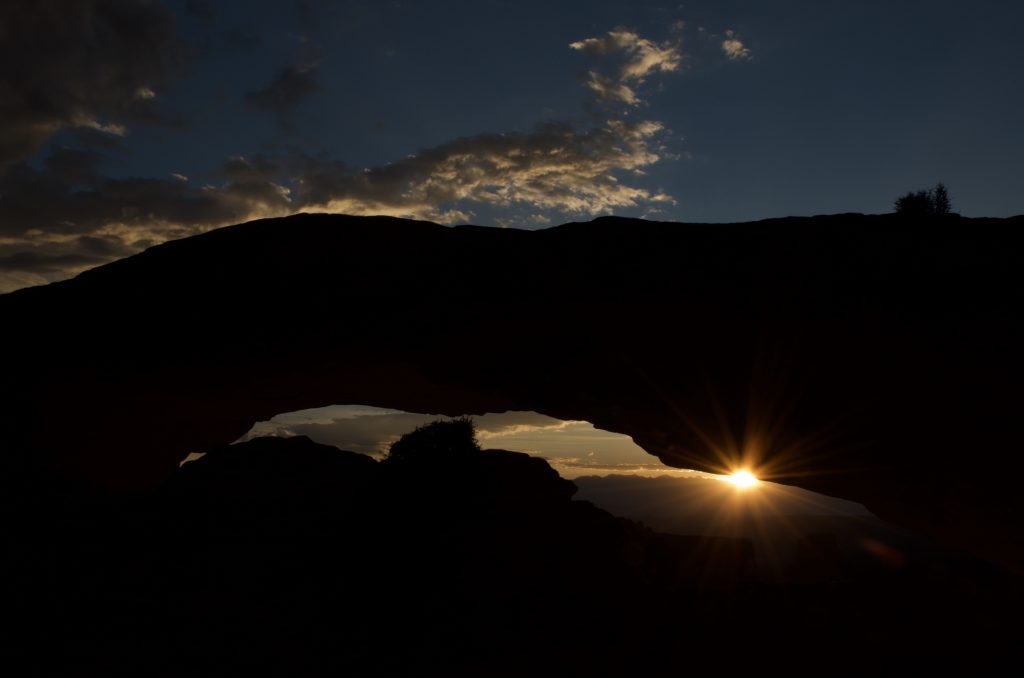 We were still waiting.  The moment has not come yet!  People's eyes were all on Mesa Arch.  Slowly, the bottom part of the arch started to turn to a burning orange-red color!  This magic didn't last long, as the sun was rising.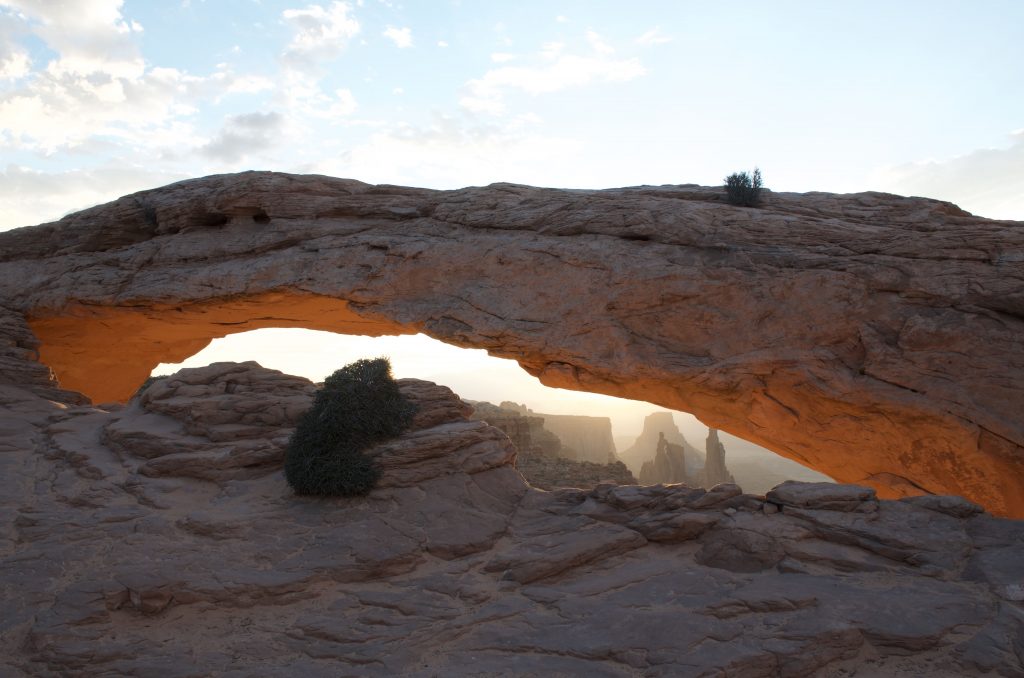 After the color faded on Mesa Arch, it's officially post-sunrise.  The sky was already bright.  We realized that Mesa Arch was right on the cliff edge.  Overlooking the vast canyonlands was also an unforgettable experience to us. Unfortunately, not a good time for photos (against the sun).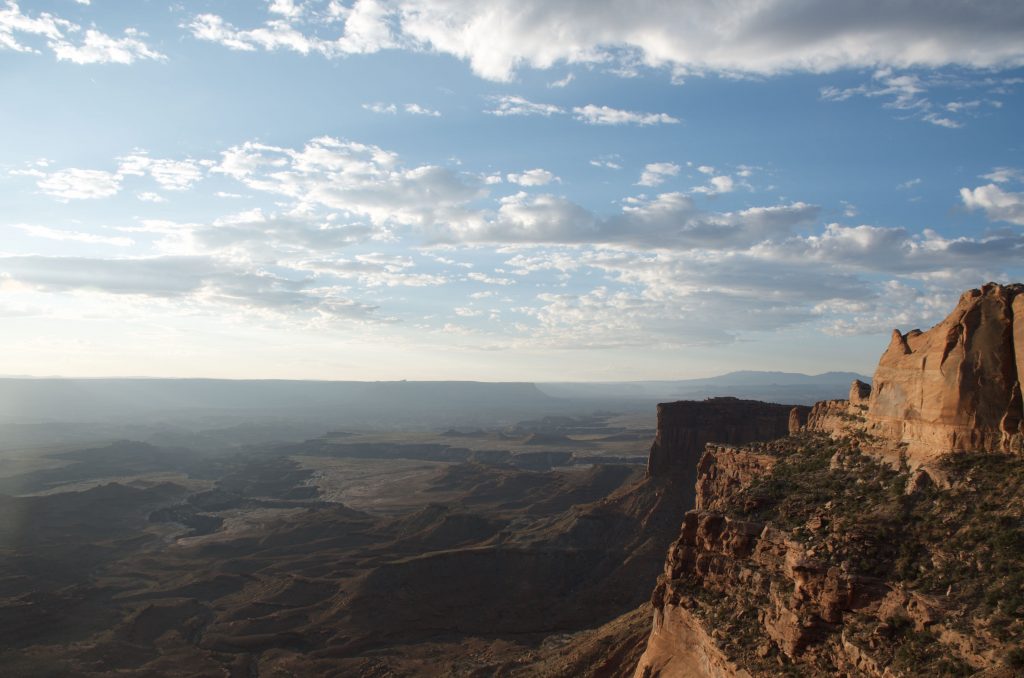 On the way back to hotel, we were quite excited.  Plus, the breakfast in the hotel (Best Western Plus Canyonlands) was great!
X