We arrived a t Moab in the early afternoon.  After checking into the hotel (Best Western Plus Canyonlands Inn), we did grocery shopping (City Market) to prepare for our Grand Circle trip: water and snacks.  Our original plan was to leave for Arches around five o'clock.  But we arrived one hour early, and didn't want to wait in the hotel (which turned out to be a bad decision).
Arches National Park is only 8 minutes from Moab.  We got a national park annual pass at the gate, for $80.  After quickly going through the visitor center (we failed to get the ranger-guided tour to the Fiery Furnace), we headed towards the trailhead of Delicate Arch.  The goal was to see the sunset and the moonrise (full moon) there.
After about half an hour, we found the trailhead (Wolfe Ranch parking area).  The trail is 1.5 mile one-way, and climbs up ~150m. The thing was it's really really hot!  The temperature in the forecast was 39 or 40 degree C, and it should be much higher on the rock.  After hiking about 20 minutes, my mom suddenly fell towards the front when she was drinking, and I couldn't catch her!  She hit the ground (rock), but was still trying to hold the water bottle.  Fortunately it's a relatively flat area, otherwise I cannot imagine!  Her nose was scratched by the sunglasses.  Her knees were bleeding a little.  My husband (boyfriend at the time) and I helped her to move to the shade, and washed her wound.  We asked her to drink water and just rest.  She probably passed out for a second because of the heat!  Plus, we didn't take any break during the 20min hike… Not to say that we had an early and long flight, and some driving!  We really should have rested more in the hotel.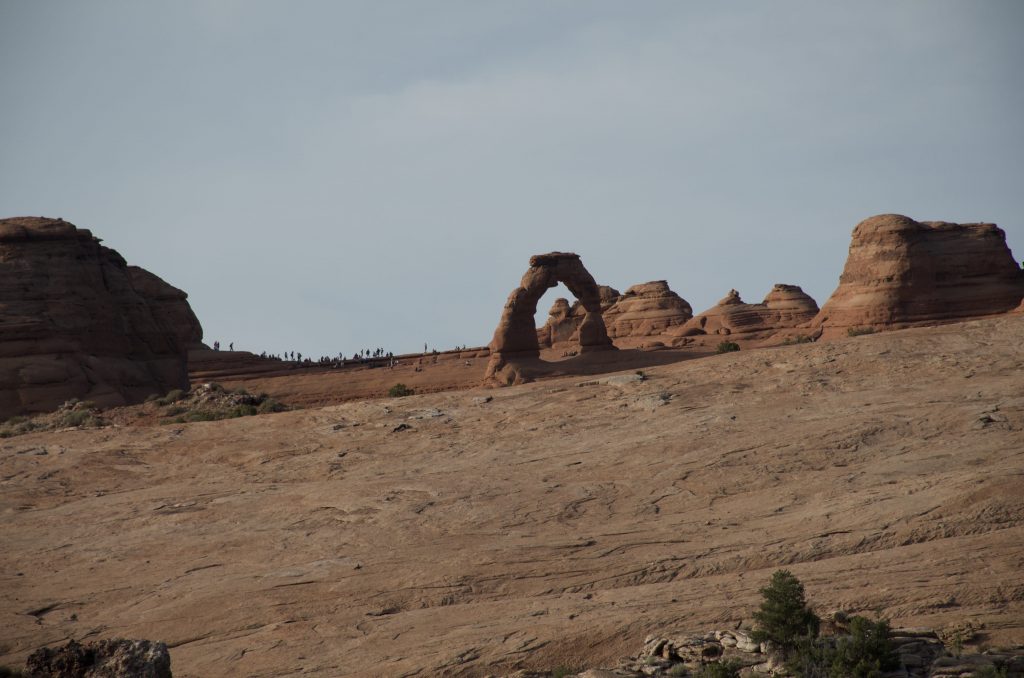 We gave up Delicate Arch, but could see it from the Lower Delicate Arch Viewpoint.  Then, we went to the Windows Section, because arches there require little hiking.  When we were leaving Arches, we saw the moonrise.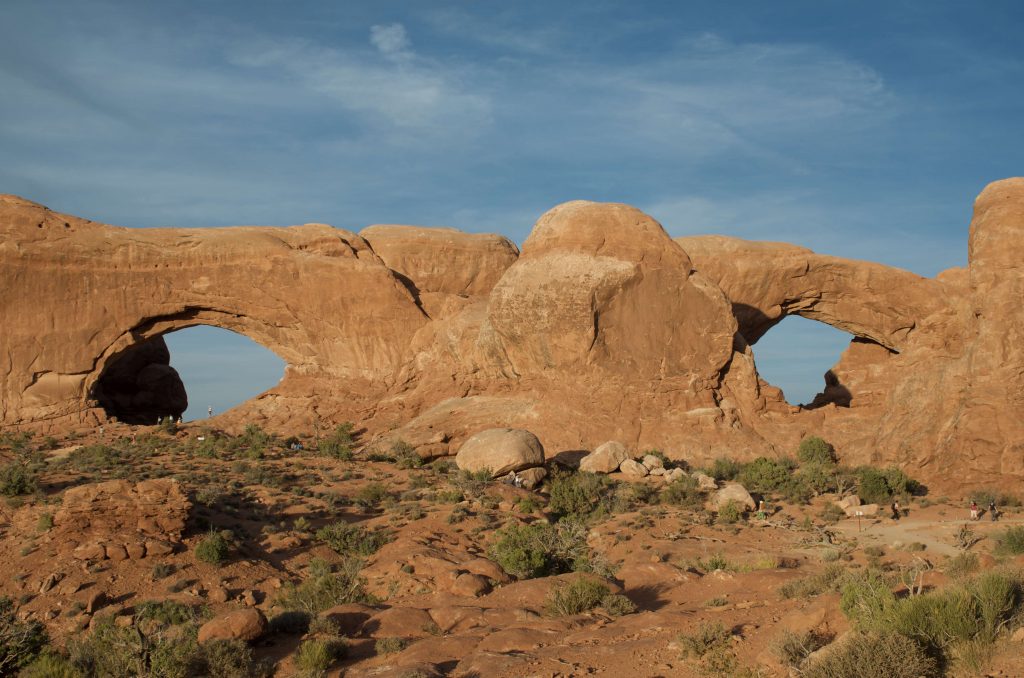 The second day, we came back to Arches again, after seeing the sunrise at Mesa Arch in Canyonlands National Park (I have to write a separate post for Mesa Arch because it's too good) 🙂
My mom seemed recovered from the first day, so we decided to try a little bit hiking again!  This time Devils Garden.  It was also a sunny day.  The driving from the visitor center to Devils Garden was half an hour.  The trailhead is a big parking lot, and has restrooms.  The trail is quite easy.  And more importantly, we were more prepared, both physically and mentally!  The total distance covering all the trails is 7.2 miles, but we didn't set a goal.  We hiked at a slow pace, and took many water breaks (even when we didn't feel the need to take a break).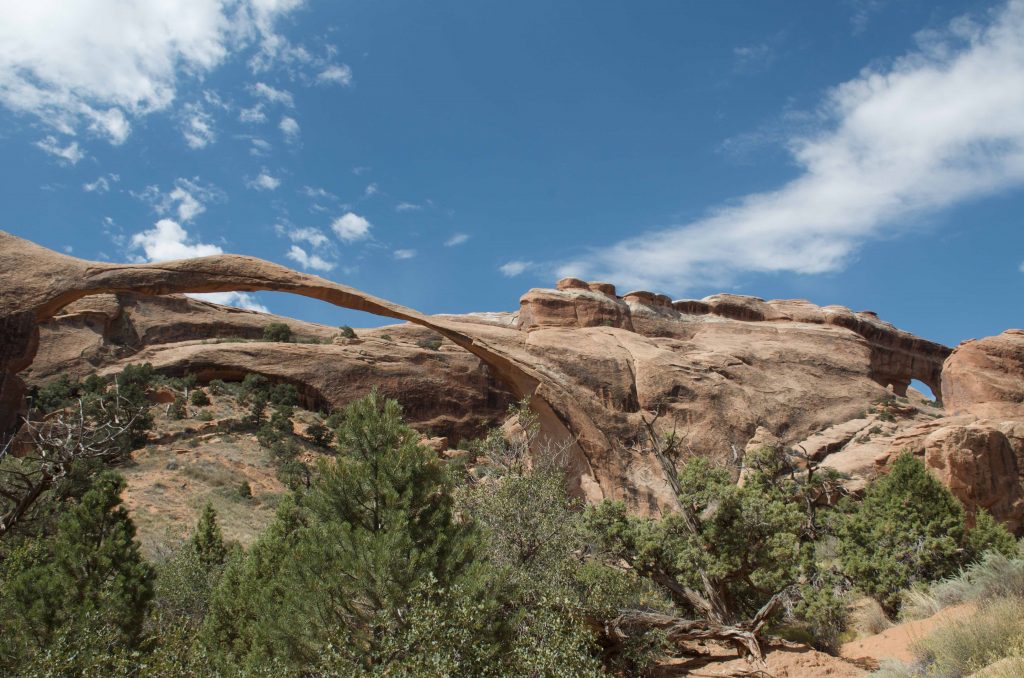 So it was a leisurely hike.  We saw Landscape Arch!  This arch is very different from the others.  So long, and so thin.  Interestingly, there were many small rocks below it – looked like debris of collapses.  It's said that Landscape Arch may break/disappear one day?
We didn't have energy to hike to the Double O Arch, so just took the same way back.  We were very pleased with the 2h hiking 🙂
After a quick bite in a cafe in Moab, we started driving towards Monument Valley…
X