Day 2  汤口 (Tangkou Town)    –>     慈光阁 (entrance of the front side of mountain)    –>     迎客松 (Welcome Pine)    –>    光明顶  (Bright Peak)   –>    飞来石 (Flying Rock)    –>    排云亭 (Paiyun Pavilion, for sunset)    –>    排云楼 (Paiyun Lou, hotel)
I think we successfully avoided crowds!  Here's the Day 2 in our Yellow Mountain trip, or the first day we were actually IN Yellow Mountain.
As mentioned in the overview post, one needs to take the shuttle bus to the entrance of Yellow Mountain.  The bus firstly took us to the 慈光阁 cable car station.  From there, another bus is available to take us further to somewhere close to the entrance.  (Only a few people were on the bus.) There's still some distance from where the second bus dropped us to the actual entrance, as we joked: "We are already tired before we even start to climb Yellow Mountain".
We were among a very small number of people who were able to enjoy Yellow Mountain in peace.  Many times, we couldn't see any other people at all.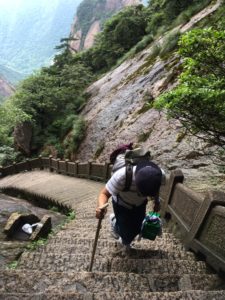 Climbing Yellow Mountain is tough, especially from the front side.  We were extremely slow.  Even if Heaven Capital Peak were open, we would not have enough time to do it.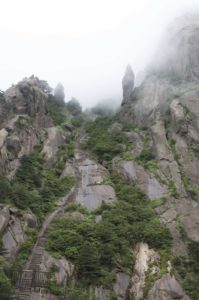 The first time when we met with crowds was at Yupin Lou (玉屏楼), where the Welcome Pine is located.   Nearby there are also a cable car station and a hotel, so no wonder it's always crowded.  We could find a stone table, and enjoyed lunch – the takeout fried rice and homemade bamboo shoot.  D was very happy that he could carry less stuffs.  We were really exhausted.
Then we kept going towards Bright Peak (光明顶).  Again, nobody was around.  Probably because of the timing, we really did not see much people this day (see photos).  Most people climb from the back side of Yellow Mountain, and we did from the front side.  Therefore, we kinda of "missed" each other?!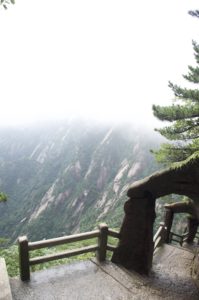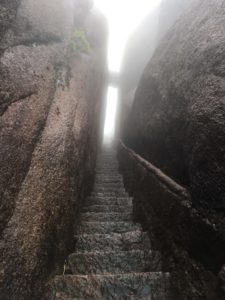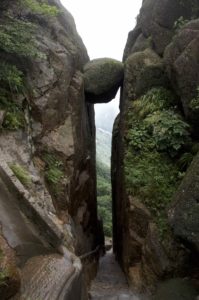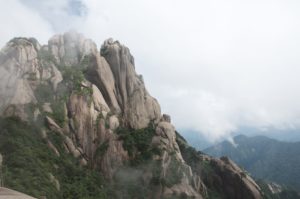 On the way, we saw West Sea Canyon.  Wow!  we couldn't wait to explore it – we got excited for the next day.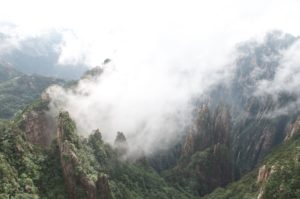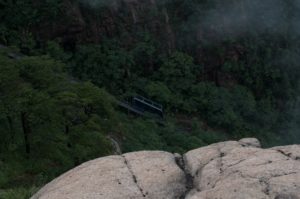 After passing the Flying Rock (飞来石), we finally arrived at hotel!  So tired!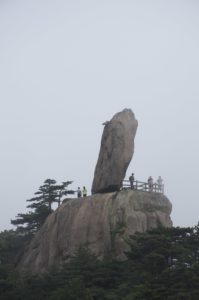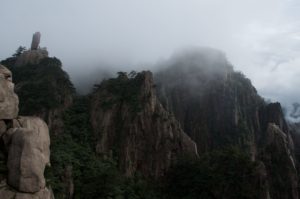 How much time did we use?  From the entrance to Welcome Pine was about 4 hours! Then, from there to hotel (Paiyun Lou) was another 4 hours!  What a day!  If the Heaven Capital Peak (requires 3 hours) were open, we would have had to hike in dark…
However, we still went to see sunset at Paiyun Pavilion (排云亭).  It was cloudy… unfortunately.  But we enjoyed the peace.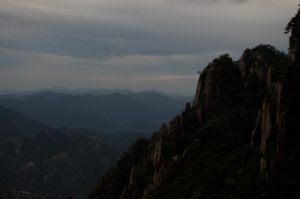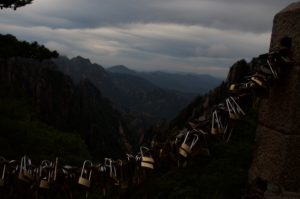 Although the hotel room was a bit wet, we had a good night sleep with sour legs.
X