I want to write about 1st day of our 11 days Hokkaido trip. If you want to see the overview of our 11 days trip, please visit the summary post.
The first day was moving day from Tokyo to Shinchitose. I wanted to meet my wife in Tokyo but her flight from China was badly delayed. Her first flight was  from Hangzhou airport to Beijing airport in China, and this flight delayed about half a day. She needed to stay in Beijing airport and airplane company compensate only 30$, which is cheaper than the cheapest hotel around airport!
Anyhow, she was still in Beijing when I arrived Hokkaido. So, my parents and I went ahead to one of the most deserted town in Japan, Yubari. Yubari is an economically collapsed town, and now a young mayor is doing big efforts to reconstruct the town.
Yubari prospered as a coal-mine town before 1950, and gradually declined afterwards. There was a movie about this city "The Yellow Handkerchief ". We visited the town to see filming location of this movie.
There was a parking to visit this location. It looked like a free visiting site, but actually there was a gatekeeper to collect the entrance fee of about 5 $. In this site, you can feel the life in coal-mine town.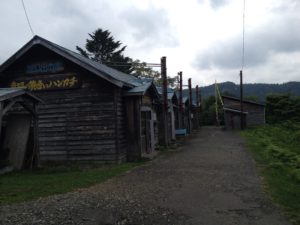 The filming location of "The Yellow Handkerchief "
Just by looking, the Yubari town was just a country town. But, I did not see many people in this town. I would like to visit this kinda small town, but life should not be that easy. BTW, Yubari is very famous for melon. If you like melon, it is worth trying "Yubari melon".
After Yubari, we visited Sapporo city. It took only 1 hour. In contrast to Yubari, Sapporo is the biggest city in Hokkaido. There are not so many tall buildings, but you can still find a lot of people.
After checking in the hotel, we visited Sapporo JR train station. In japan, big train stations usually have a lot of shopping and eating place. We visited a "Sushi-go-round" restaurant in the station.
I would write information about hotel and restaurant at the bottom of this post. When I was eating Sushi, my wife X arrived Tokyo HND airport. Finally at midnight, she could arrive Shinchitose airport. Fortunately there was a last train to come back to Sapporo. FYI, there should be buses till midnight from Shinchitose to Sapporo even if you miss the last train 🙂
Hotel: Toyoko Inn Hokkaido Sapporo-eki Minami-guchi, Sapporo (東横イン)
If you want to just sleep in the hotel (no complementary dinner), Toyoko-inn is one of the safe choices. Plus, Toyoko-inn provide complementary breakfast. The room is small but it has bed, shower and some amenities. There are some this type of hotels so called "business hotel" in Japan. The room is relatively cheap and has standard quality. Of course, you can find cheaper hotels, but you may get good or bad experience by your luck.
Lunch: "restaurant oyama", Yubari(おーやまレストラン)
This was a nice restaurant. The price is a bit expensive but we need to think that they are maintaining the restaurant in this small town. They have many order menus so you should be able to find one you like. I tried their speciality using yam which is well-known product in Yubari.
Dinner: "Hokkaido Shikisaitei", Sapporo station(北海道四季彩亭)
Actually, we wanted to go to a different famous sushi restaurant (根室花まる), but almost 100 people were waiting at that time.  So we visited the sushi restaurant (北海道四季彩亭). Actually, this restaurant did not have very good review. I say the restaurant is good enough unless you are expecting something special for Hokkaido. At least, it was good that we did not need to wait long time to eat :*)
D & X